O God, You are my God; early will I seek You; my soul thirsts for You; my flesh longs for You in a dry and thirsty land where there is no water.

-Psalm 63:1  (NKJV)
Thoughts on Today's Verse
Life often takes us through the weary place and the parched wilderness on this journey through life, where only God can provide the comfort and sustenance we desperately need, for He alone is our present help in time of trouble, Whose compassion and mercy towards us is new ever morning.  How precious that as His children we can legitimately cry out "MY God.."
I am His by creation and His by purchase – I am His by promise and His by permission – I am His and He is mine, through time and into eternity. As Redeemer of my spirit, Lover of my soul and permanent Resident within my body  – He is the One to Whom I must fly in all circumstances and seasons of my earthly wanderings, and when I stray from His side I must quickly return and seek Him with my whole heart and covet His favour with my entire being. I must seek Him early and I must peruse Him earnestly – I must long for Him ardently and desire Him incessantly. Because Your loving-kindness is better than life, My lips shall praise You.
My Prayer
O Lord my God, my Saviour, my All- in-all – my JESUS… AMEN
Today's verse illustrated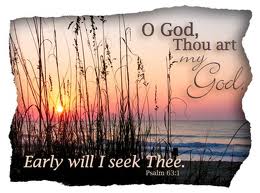 Latest posts by Elizabeth Haworth (see all)
Daily Devotional direct to your Inbox!
Post your Comments